IMC has provided top-quality consulting services to government and private sector clients for more than two decades. IMC has delivered many projects on time and on budget for our Federal customers. Continuing IMC's tradition of industry leading service to the Federal Government, Informatics was formed to bring together IMC's top engineers and developers to solve major security problems that are prevalent in today's information systems.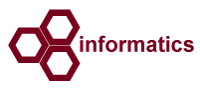 Informatics sees the cloud as not just a buzzword, but as a new collection of architectures for modern computing systems. We see the cloud as a security enabler for organizations rather than a security threat. We understand there are risks with any architecture, solutions, or provider, but Informatics has this skill and background to design and develop solutions that use the cloud securely and to the fullest. Our engineers draw from diverse backgrounds in security, operations, and management to provide cutting-edge solutions to our customer's toughest problems.
Informatics has years of experience implementing security controls around mission-critical infrastructure and the ability to provide trained personnel to monitor and respond to current threats. Our cyber security consultants have experience with the latest industry tools and tactics to operate in an offensive and defensive manor to protect our clients' interests.
Contact Informatics for assistance with:
Vulnerability Assessments
Risk Management
Architecture Review
Security Controls and Policy
Application Security
Auditing and Compliance
Penetration Testing
Certification and Accreditation
Computer Forensics
Cyber Security Training
OpFor/CNO Training
Cyber Labs and Simulation
Informatics architects are experts in implementing the right solution for our customers' needs. We are able to work with and improve upon existing virtualization solutions. We have VMware-Certified Professionals (VCP) that can implement VMware Clouds, as well as open source solutions such as OpenStack and Eucalyptus. Informatics is a leader in using provisioning tools such as Puppet, Chef, or Ansible to create secure, repeatable, and auditable, virtual deployments.
Contact Informatics for assistance with:
Enterprise Architecture
Cloud Automation
Big Data Analytics
Identity Management
Cloud Application Security
Content Management Systems
Public/Private Cloud Implementation
Data analytics allows our customers the ability to capture, manage, and analyze large and complex data sets in order to uncover hidden patterns and unknown correlations that can allow for improved decision-making to leaders as well as input for automated actions.
Contact Informatics for assistance with:
Hadoop and MapReduce Technologies
Sentiment Analysis
NoSQL Databases
Event Correlation
Storm Real-time Computation
Log Analytics
TODO: This content was originally in a sidebar; determine what to do with it
Why will your organization benefit from Informatics services?
Informatics focuses on security in all the solutions we provide.

Informatics provides end-to-end solutions built with security in mind from the ground up.

Informatics provides secure private and public cloud infrastructures using leading industry hardware and software.

Informatics works with the latest intrusion detection, cloud automation, and data-analytics tools to prevent and counter today's emerging threats.