IMC offers a comprehensive range of hosting solutions to the Federal Government and commercial organizations ranging from cloud services to simple colocation to fully managed services.
IMC hosting facilities use the latest materials, techniques, planning, and equipment. Each center has immediate access to virtually unlimited gigabit capacity, exceptional performance, and meets or well exceeds Tier 3 classification requirements for redundancy, critical systems, and construction (based on the Uptime Institute's Tier Classification System).
IMC has Hosting Centers across the United States and the capability to expand to other locations rapidly. IMC may host Sensitive but Unclassified data in our facilities, unless a Sensitive Compartmented Information Facility (SCIF) environment is incorporated and approved. This includes higher levels of physical and data security.
The IMC Federal support team has been cleared to Public Trust positions and DoD clearances. No foreign nationals work on IMC's Federal hosting projects.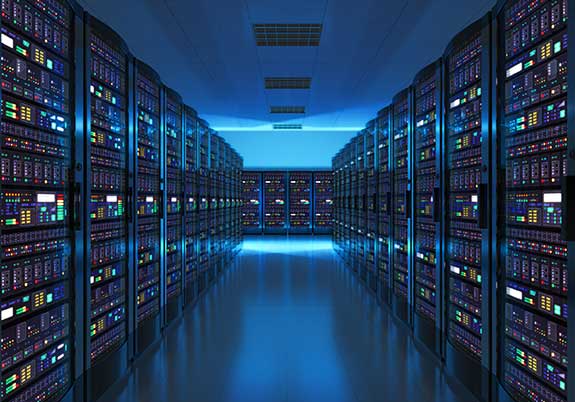 IMC offers a sliding scale of cloud services, hosting services, and application support capabilities that allow you to engage IMC on a pure cloud, colocation or fully managed basis, or anywhere in-between, and to make changes at any time to the type and level of support provided.
IMC Hosting Centers provide space, power, HVAC, bandwidth, and physical security. We offer additional services that include installing, maintaining, securing, and monitoring the hosted environment and securing its data, or customers can choose to provide these services themselves. The customer can furnish any or all of its own equipment for the environment or purchase it through IMC. IMC can also offer skilled engineers on a Firm-Fixed-Price or Time and Materials basis to support the customer pre- and post-installation. A Service Level Agreement is provided to the customer for the network up to and including the master-switched routers in the Hosting Center as well as the critical systems in the Hosting Center itself. IMC offers SAS-70, multi-certified, Uptime Tier 3/4 hosting facilities with total critical systems and network redundancy, specialized Federal areas to host Sensitive But Unclassified data, and an elite team of hosting engineers dedicated to Federal government deployments.
If a customer would like cloud and a managed hosting solution, IMC provides a complete range of options. IMC will take responsibility for any of the services listed below and provide a Service Level Agreement for the availability of its hosted applications based on the level of redundancy and support contracted by the customer for its hosted environment.
A partial listing of Managed Services provided includes:
Purchase and receive hosted equipment.
Rack, configure, and test hosted environment.
Servers, load balancers, security appliances, switches, routers, etc.
Load and configure operating systems.
Load and configure select applications above the Operating System.
Monitor hardware health.
Support hardware health in concert with original equipment manufacturers.
Monitor Operating System health.
Support Operating Systems.
Monitor applications above the Operating System.
Support select application above the Operating System.
Managed Firewall (multiple platforms, 24×7 administration).
Managed intrusion detection (multiple platforms, 24×7 administration).
Managed tape back-up (StorageTek) with offsite storage (24×7 administration).
Managed storage (SAN) on EMC or SUN Platforms (24×7 administration).
Change and configuration management.
Continuity of operations/disaster recovery services.
Nearly all of IMC's cloud, hosting, and application support capabilities are provided in-house and do not require the complexity of outsourced relationships. The principal benefit to the customer of IMC's sliding scale of hosting environment/colocation/cloud/managed services is the ability to alter support levels at will to accommodate changing needs. For example, the customer may wish to host an application at the Hosting Center that will initially be deployed and supported by its engineers but, over time, it may make more sense to outsource. IMC Federal hosting gives the customer this flexibility to meet ever-changing resource and budget requirements.
IMC provides to its Federal customers a dedicated and elite hosting team of Tier 1, Tier 2, and Tier 3 engineers and Subject Matter Experts with extensive experience in a wide range of cloud computing environments, systems, and application support, security, hardware and software platforms, as well as the unique privacy, security, and regulatory characteristics of the Federal environment.
The IMC Federal Team will work with the customer's engineers to design solutions that balance the elements of cost, redundancy, security, and performance to reach the best outcome. This planning function is always provided at no cost. The same team is then responsible for the deployment and ongoing management of the customer's cloud or hosted environment. This model of design/build/run has proven itself over and over again as the best way to ensure optimal outcomes. As IMC grows its Federal hosting base, the Federal hosting team also grows. Current Federal customers include:
Department of Energy
United States Army
United States Air Force
All IMC Hosting Centers offer a clean, highly-managed hosting and telecommunication's environment constructed with N+1 and N+2 critical systems redundancy. HVAC, electrical power, fire protection, and complete systems monitoring provide Hosting Center customers with total environmental security and high availability.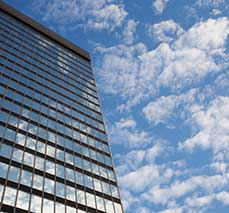 What is cloud computing anyway?
According to our partner, CyrusOne, cloud computing "involves distributing hosted services over the Internet."
Cloud computing can be private or public. A public cloud sells services to anyone on the Internet. A private cloud is a network or a data center that supplies hosted services to a limited number of people. Find out more about our partner CyrusOne (PDF) or visit the CyrusOne website.