IMC has a comprehensive approach to network and infrastructure support that integrates activities in three areas:
Network and Infrastructure Operations,
Network and Infrastructure Engineering, and
Network and Infrastructure Cybersecurity.
IMC ensures that all three of these areas are tightly coordinated to provide the most effective and efficient overall support.
IMC provides three separate areas of support because the skill sets required for each area are unique, and having technical leads for each of the three areas allows us to provide the best possible support to our customers.
Operations support concentrates on day-to-day activities that make sure your network and infrastructure are available 24-hours-a-day, 7-days-a-week, 365-days-a-year.
Monitor and improve:

Network performance.
Use of resources (physical and virtual).
Configuration.
Capacity planning and management.
Access Control Lists (ACLs).
Integrated operating system (IOS), operating system, and patch management.

Incident management activities:

Detect and report incidents.
Investigate and diagnose incidents (conduct root cause analysis).
Identify solutions and perform recovery activities (recommend solutions, test and troubleshoot end-to-end network solutions and servers in various operating system and roles).

Configuration/change management activities.

Asset and inventory management activities.

Equipment maintenance activities.
Engineering support focuses on changes to the network and infrastructure, including minor/major enhancements, insertion of new technologies, consolidation/virtualization, and moves to entirely new hosting/cloud environments.
Architect and design network and wireless network infrastructure.

Install (setup, configure, and test) network and wireless network infrastructure.

Test and troubleshoot end-to-end network solutions and servers in various operating system and roles.

Provide virtual infrastructure support:

Install, configure, troubleshoot, and optimize virtual host.
Configure virtual farm management software.
Orchestrate the provisioning of resources to a virtual farm.
Deploy virtual computer, networking, storage, and security services.
Create self-provisioning portal for the deployment of virtualized computer, networking, storage, and security devices.

Plan and execute data center consolidation activities

Plan and execute move to a cloud/hosted environment.
Cybersecurity support is devoted to guaranteeing the network and infrastructure is protected around the clock from both external and internal threats.
Certification & accreditation

Cybersecurity engineering and architecture

Security assessment and authorization (A&A) compliance

Security Operations Center (SOC)

Enterprise Security Management (ESM)

Risk analysis and assessment

Cyber Kill Chain Methodology

Security as a Service (SECaaS)

Network security

Firewall administration

Authentication and access control

Identity management

Vulnerability management

Patch management

Intrusion prevention

Intrusion detection

Incident response

Continuity of Operations (COOP)/Disaster Recovery (DR)

Penetration testing

FedRAMP:

NSOC Layout – Description of the NSOC environment, room layout, and NSOC equipment.

NSOC Information Access Restrictions – Role-based information access.

NSOC Tools – Descriptions of the NSOC monitoring tools.

Roles & Responsibilities – NSOC staff responsibilities, IT Administrator responsibilities, Cyber Security staff responsibilities.

Security Architecture – Architecture and processes that are in place to help secure the NSOC infrastructure and stored information.

NSOC Staff Hire/Termination Requirements – Specific actions that must be followed when an employee starts working in the NSOC or no longer works in the NSOC.

NSOC Monitored Information – What systems are monitored, what information is being monitored for those systems, by what tools?

NSOC Reports – Description of the standard reports that are provided via the NSOC.

NSOC Alerts – Description of the automated alerts that are provided via the NSOC.

NSOC Procedures – Procedures used for the NSOC.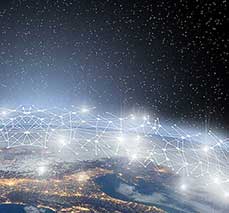 Why IMC for Network and Infrastructure Support Services?
IMC uses an integrated approach that unites all levels of network management—service level, configuration, change, capacity, security, and availability—to provide a stable set of network engineering services aligned with the needs of the customer.
Your information is only as valuable as your ability to access, retrieve, view, and use it. IMC's full suite of network services ensure that connectivity is maintained and your communication capabilities continue without interruption.